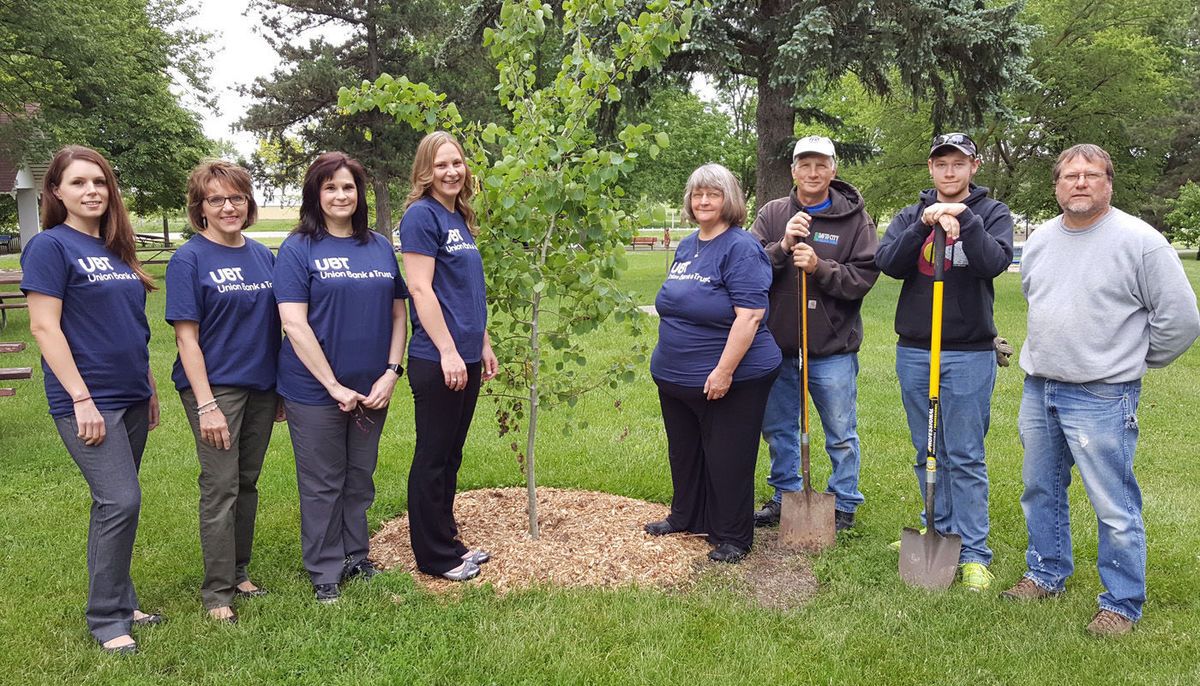 Larry Peirce/The Banner-Press
Pictured in photo: Union Bank employees, from left, Kirsten Husmann, Deb Dinkelman, Linda Prochaska, Kristina Strong and Sharon Smith joined city employees Gene Andel, John Paul Svec, Bill Buntgen for a photograph of an aspen planted last month in the City Park. As part of its centennial celebration, UBT also provided another aspen, plus a bald cypress, ginkgo and crabapple.
Union Bank (UBT) was founded 100 years ago and to celebrate this milestone anniversary, the bank is donating trees to the communities it serves.
Nicely-sized trees are being planted in 14 communities in Nebraska plus in Bonner Springs, Kansas, this spring. In David City, the bank has coordinated the tree planting in the City Park with the David City Parks Department.
"Reaching 100 years is a significant achievement, but our focus is on how we can serve our community for the next 100 years," stated Kirsten Husmann, Branch Manager/Ag Loan Officer. "Planting trees is one way we can give a gift to the community that will be enjoyed for decades to come."
Union Bank is celebrating its 100th anniversary throughout 2017 with special events, special product opportunities and community support. Additional details can be found at ubt.com/next100 or stop by the branch.