Butler County Profile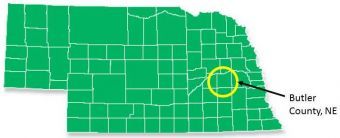 Location: east-central corner of the state of Nebraska
Population For The County: 8,395 (2010 U.S. Census)
Towns in Butler County: Abie, Bellwood, Brainard, Bruno, David City, Dwight, Garrison, Linwood, Octavia, Rising City, Surprise, and Ulysses
Economic Activities: farming, cattle feeding, hog production, egg production, manufacturing, food processing and retail
Terrain: gently rolling to steep hills. Level in the Platte River Valley. Soils are medium-texture silt loams with moderately heavy to heavy subsoils.
Median Age For Residents: 41.8
Median Family Income: $53,000
Highways: NE 15 (north/south), NE 92 (east/west). Interstate 80 is approximately 30 miles south and Interstate 29 is approximately 75 miles east.
Government: Butler County has 17 townships and is governed by a seven-member Board of Supervisors, elected by popular vote for four-year terms. The county is not zoned. The Butler County Sheriff's Department is located in the county seat of David City. The Butler County Detention Center officially opened in 2004 with 28 beds and 2 holding cells. Two corrections officers are on duty at all times. Inmates are brought to county and district courtrooms through nonpublic corridors.
*Source: NPPD Economic Development Assistance Team, Columbus NE. For a detailed profile of Butler County's county seat, David City, visit: http://econdevtools.nppd.com/aedc/CitySearchProcess.asp